Are Trevor and Sienna about to get rumbled?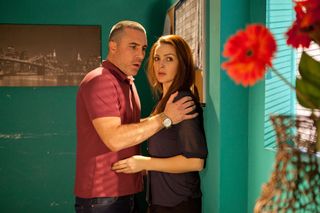 Sienna thinks Ben's idea of getting hitched is ridiculous, prompting Ben to question whether she wants to marry him at all. At The Loft, Sienna tells Trevor she doesn't want to marry Ben – she wants to be with him! Sienna and Trevor kiss and go into the office but Grace isn't far behind. She tries the office door but it's locked, as Trevor and Sienna struggle to get dressed. Grace gives up trying when she gets a call from Ste. Later, Sienna asks Trevor to run away with her.
Having been caught in the act with Lisa, Zack's forced to tell parents Louis and Simone she isn't his sister. Zack urges them to speak to 'fake' Lisa – aka Sonia – before they call the police. Meanwhile, Joanne's just got off the phone to her private detective who's told her where to find Margaret – the woman who abducted the real Lisa. Jade's appalled when Sonia asks her to run away with her now she's got no one else. Simone, Louis and Zack find Sonia at the Boarding House with Jade and want more information about Lisa - Sonia admits Lisa IS still alive! Later, Sonia begs Joanne to tell the Lovedays she knows Margaret. Joanne feigns ignorance but, when Sonia leaves, Joanne's shocked to see Margaret at her office door…
Also, having swiped a spare set of keys from Grace and Trevor's flat, Ste and Harry set up a home gym and whip up some healthy smoothies for Grace, who's worried she's let herself go. They call Grace to come home and tempt her with the offer of a free personal trainer, Harry, and chef, Ste, if she lets them stay.
Get the latest updates, reviews and unmissable series to watch and more!
Thank you for signing up to Whattowatch. You will receive a verification email shortly.
There was a problem. Please refresh the page and try again.