Ash is determined to expose Robbo's secrets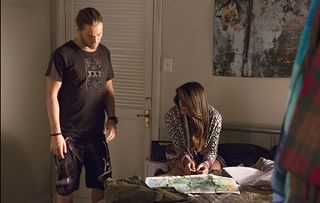 Will Ash show Kat who Robbo really is?
With Ash and Robbo on the verge of a physical fight, Kat intervenes and demands the men cool off. When she gets back to the flat, Robbo demands to know why Kat is having secret meetings with Ash. Kat says that she and Ash were simply discussing the baby. Robbo buys Kat's story but demands to be included in all baby talk going forward. Kat agrees, but quickly sets up another secret meeting with Ash in the hope to find out what Robbo is hiding. When Kat calls Ash, he's with Tori and Kat's interruptions cause tension. Later, Kat goes off to meet Ash, will Robbo find out the truth? And what will Tori think when she sees Kat coming out of Ash's bedroom?
Justin is pleasantly surprised when he finds Willow in his bed. The pair sleep together, but the atmosphere turns tense when Tori returns home and acts cold towards Willow. Later, Willow and Tori bump into each other at the beach and Tori explains to Willow that she doesn't like how she has treated her brother. Willow is taken back at how invested the Morgans siblings are in Justin's love life. Will Willow want to put an end to the their casual fling?
Maggie is stunned to find out that Coco was arrested at an environmental protest with her Gran. Ben isn't fussed and tells Maggie that she is the only family member not to be put in hand cuffs. Maggie wants to talk to Coco to ensure she doesn't follow Ziggy's path and, when they talk to their daughter, Maggie is surprised by Coco's reaction.
Get the latest updates, reviews and unmissable series to watch and more!
Thank you for signing up to Whattowatch. You will receive a verification email shortly.
There was a problem. Please refresh the page and try again.