Ash and Kat rush Luc to the hospital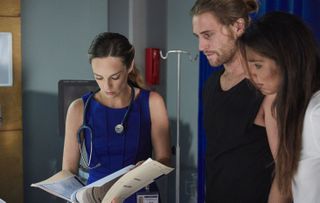 (Image credit: JEREMY GREIVE)
Will baby Luc live?
Ash and Kat race to the hospital, desperate to get Luc treatment. On the way, Kat calls Tori and tells her Luc's symptoms and Tori tells them to meet her at the hospital immediately. Still driving to the hospital, Luc's condition continues to deteriorate and she starts shaking as though she's having a fit. A panicked Kat and Ash finally arrive at the hospital and, after a series of tests, Tori discovers that Luc has a bowel condition. Will Tori be able to operate and save Luc's life?
Meanwhile, Jett and Marilyn continue to argue about telling John the truth in regards to the death of his father. Marilyn insists on keeping John in the dark, but Jett's had enough and asks John if he wants to know the truth. At first, John doesn't want to know the truth, but later he changes his mind. How will John react when he finds out how his father really died?
Also, Hunter receives a short email from Zac, which makes him feel like Zac's no longer interested in maintaining a relationship with him. VJ tries his best to cheer Hunter up - but will he succeed? Or will he put Hunter in an even worse mood? Finally, will VJ find out that Luc is sick?
Get the latest updates, reviews and unmissable series to watch and more!
Tobi Oredein is an award-winning women's lifestyle journalist, media entrepreneur and international public speaker based in London, who focuses on race, feminism, beauty politics & popular culture. Tobi has been commissioned by Buzzfeed, British Glamour, Grazia, Elle UK, Fader, The Debrief, The Independent, The Pool, Stylist, Vice and others. She has also interviewed public figures such as Ryan Coogler, Ava Duvernay and Sir Trevor McDonald.
Thank you for signing up to Whattowatch. You will receive a verification email shortly.
There was a problem. Please refresh the page and try again.