Is Belle's fake pregnancy exposed?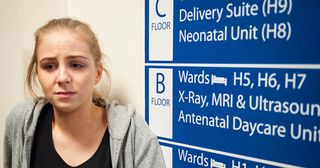 After taking a fall, Belle's in hospital, where her fake pregnancy is at risk of being exposed!
When Belle gets knocked down in the street, the unexpected fall provides the perfect opportunity for her to pretend she's had a miscarriage. But Belle's not so sure about going ahead with the idea at all, despite Charity's insistence. At the hospital to get checked out, 'pregnant' Belle is shocked to bump into Bailey's wife Angie who tells her that she and her former husband, who has supposedly got Belle pregnant, suffered miscarriages, too. The news makes Belle feel even worse than before about the lie she's told her lover, Bailey. When the sonographer arrives to scan Belle, the teen runs off.
Later, she lies to Bailey that the fall hasn't affected the pregnancy before telling (her imaginary friend) Ellie she'll take her baby on.
David's not about to give up on his plan to marry Tracy. When he books a wedding venue, Tracy's frustrated but David's determined to make her his wife.
Moira's secretly helping her daughter Holly break her drug habit but when Adam notices his sister is out of it and questions her sobriety, Moira lies to her son.
Get the latest updates, reviews and unmissable series to watch and more!
Thank you for signing up to Whattowatch. You will receive a verification email shortly.
There was a problem. Please refresh the page and try again.