Ben panics when Nico collapses!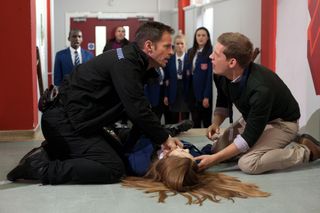 Convinced he's the one who attacked him, Trevor decides to go after Ben, who's reluctantly doing a road safety talk at the school, where Nico's feeling increasingly ill. Elsewhere, Esther tells Grace that Trevor should get some counselling, but Grace thinks tough love is the answer. At the school, Trevor squares up to Ben, who panics when Nico has a heart attack. Ben thinks Trevor's to blame and wants revenge…
The Lovedays are looking forward to watching Zack's first football game after Wayne's attack when Joanne reminds Simone about her presentation for the law firm partners that day. Simone frantically types up an opening statement and gives it to Joanne but, when it conveniently gets lost, Simone has to make a choice between work and Zack's game. Later, Joanne's furious when Louis forgives Simone for missing the match and locks her in the back of the new Price Slice van.
John Paul's concerned when Cleo tells him she hasn't done her coursework yet, saying she has other things on her mind. When she gets an essay from the internet, John Paul covers for her - but he's busted when Mrs St Claire finds out!
Also, when Ellie tells Freddie she likes rugby players, he playfully rugby-tackles her to the ground. At the Roscoes', Lindsey's annoyed when she sees them both half-naked – does she still love Freddie?
Get the latest updates, reviews and unmissable series to watch and more!
Thank you for signing up to Whattowatch. You will receive a verification email shortly.
There was a problem. Please refresh the page and try again.