Ben and Xanthe are threatened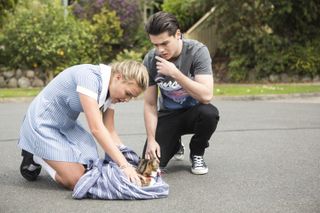 What has Tyler got himself into? And will Xanthe and Ben pay the price?
Ben passes his driving test and admits to Xanthe he's more concerned about Adrian Snyder and the pressure he's putting on Tyler. Both Ben and Xanthe are worried about their friend but decide to keep quiet until Tyler and Piper return from their road trip. Ben and Xanthe, however, are left terrified when Adrian sends Tyler a threatening message…
Paul explains to Amy that he's being blackmailed. He tells her that the previous owners of the complex underpaid some of the elderly residents for their property and, if news gets out, the whole project could tank. To stop the truth from spreading, Sue Parker wants the Robinson family to give her son a job. But will Amy agree and, if so, on what conditions?
Also, Kirsha is petrified about going back to school and refuses to tell her parents. When Kirsha returns to school, Tia begins to taunt her. Xanthe and Jimmy want Kirsha to tell her parents and Elly, but Kirsha still refuses. Xanthe sets up a mediation session between Kirsha, Tia, Jack and Elly but Tia puts on a butter wouldn't melt performance. Will Jack and Elly see through her lies? And will all hell break loose when Dipi discovers the truth?
Get the What to Watch Newsletter
The latest updates, reviews and unmissable series to watch and more!
Tobi Oredein is an award-winning women's lifestyle journalist, media entrepreneur and international public speaker based in London, who focuses on race, feminism, beauty politics & popular culture. Tobi has been commissioned by Buzzfeed, British Glamour, Grazia, Elle UK, Fader, The Debrief, The Independent, The Pool, Stylist, Vice and others. She has also interviewed public figures such as Ryan Coogler, Ava Duvernay and Sir Trevor McDonald.