Bethany admits she's being bullied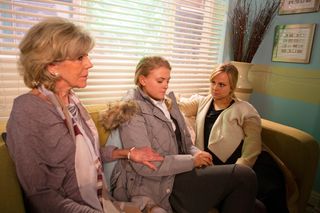 (Image credit: Mark Bruce)
When Lauren and her gang confront Bethany on the street, Luke spots them and leads a tearful Bethany to the salon where she tells the Platts why she's been avoiding school. Vowing to sort Lauren out, Sarah pays her mother a visit. Later, the Platts rally round Bethany and she hugs Sarah, promising there'll be no more secrets.
Michael arrives back from hospital and for Eileen's benefit, shakes hands with Phelan. But he later tells Gail that Phelan's trying to lure Eileen away from him. Later, Michael tells Phelan to stay away from his girlfriend.
Rana thanks the Nazirs for letting her stay the night and insists she's going to cook a meal for them by way of thanks. Sharif and Zeedan are clearly smitten whilst Alya can't help but admire her friend's shameless schmoozing.
Eva's convinced the O'Driscolls aren't all they seem and accuses Aidan of putting his bank account ahead of Marta's welfare.
Get the latest updates, reviews and unmissable series to watch and more!
Thank you for signing up to Whattowatch. You will receive a verification email shortly.
There was a problem. Please refresh the page and try again.