Billie tracks down her attacker...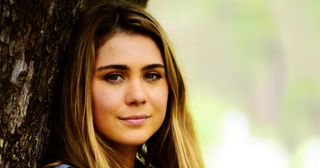 Billie goes to great lengths to find the man who attacked her
Phoebe is stunned to learn that Mick is a serial rapist and was in the Bay at the same time Billie was attacked. Phoebe tells Billie, but she claims that she's moved on. Later, Billie tries to talk to Kat about Mick, but her questions leave Kat suspicious. So Billie decides to sneak into the hospital – where she sees Mick, the man that raped her.
Tori annoyed with Justin after he told her to stay away from Nate. So when Tori sees Nate in The Diner, she makes it clear she's his boss and not his friend leaving him hurt. Frustrated, Tori turns to Brody and when the pair discuss the fact that they can never settle down - Brody puts an offer in for Angelo's. Later, Tori finds Nate and apologises for her recent behaviour, and Brody confirms that his offer for Angelo's has been accepted!
Kat tries to convince Andy to tell the truth. He refuses to budge, but he does explain that Ash was trying to do the right thing for Josh, which convinces Kat to reconcile with Ash.
Get the latest updates, reviews and unmissable series to watch and more!
Thank you for signing up to Whattowatch. You will receive a verification email shortly.
There was a problem. Please refresh the page and try again.