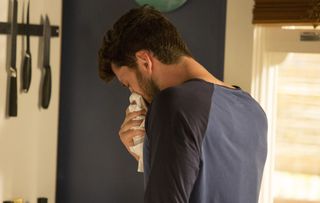 Will Brody's secret finally come to light?
Brody has been badly beaten by his drug dealer Zannis. After being dumped at the side of a bush road, Brody manages to stumble home and Mason's shocked to see his brother bruised and covered in blood. Mason rushes Brody to the hospital, where he lies to Tori and Mason, saying he slipped and fell down the stairs at Salt. However, Brody's lies quickly unravel when Roo says she saw Brody acting suspicious at the Caravan Park. Tori realises Brody's lying about his injuries and demands that he takes a blood test to prove he's no longer taking drugs. Is the game up for Brody?
Meanwhile, Zac arrives at Nate's with a warm welcome and cans of beer! It's clear Zac wants to drown his sorrows. After drinking far too much, Zac decides he wants to give Leah a piece of his mind and heads off to see her. Unable to get into the house, Zac climbs onto the roof and makes a drunken declaration of love for his wife in front of Irene, until things take a tragic turn…
Get the What to Watch Newsletter
The latest updates, reviews and unmissable series to watch and more!
Tobi Oredein is an award-winning women's lifestyle journalist, media entrepreneur and international public speaker based in London, who focuses on race, feminism, beauty politics & popular culture. Tobi has been commissioned by Buzzfeed, British Glamour, Grazia, Elle UK, Fader, The Debrief, The Independent, The Pool, Stylist, Vice and others. She has also interviewed public figures such as Ryan Coogler, Ava Duvernay and Sir Trevor McDonald.