Will Brody and Mason survive their car accident?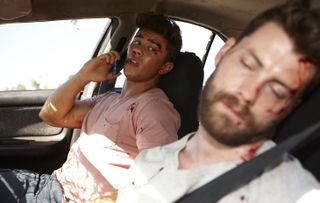 Is it the end for one of the Morgan brothers?
As Mason and Brody lay unconscious in the car, Zannis walks over and leaves just as Mason begins to regain consciousness. Mason rings an ambulance, but starts to panic as Brody fails to wake up. The ambulance arrives and takes the pair straight to hospital.
Brody eventually comes round with minor cuts and bruises, but will his family believe him when he says he saw Zannis or will they think he's back on the drugs and hallucinating? Unfortunately, it looks like tragedy is ahead, when Mason begins to lose feeling in his left hand…
Ben is desperate to make a good impression on Alf and Leah, but will he be successful? Later, he turns to Justin and Tori in a bid to win over the Summer Bay locals and, in the process, he makes it clear he doesn't want Brody anywhere near Ziggy. Meanwhile, Maggie's overwhelmed by her new job at Summer Bay High and turns to Leah for support. Is this the start of a new friendship?
Coco's first day at school doesn't get off to the best start. First she makes an enemy out of a classmate called Jennifer and then she lashes out at her only friend - Raffy. VJ sees what a terrible day Coco is having and visits her at home after school. The pair decide to have dinner together, however, their innocent dinner ends badly when Ben believes that VJ is coming onto Coco…
Get the latest updates, reviews and unmissable series to watch and more!
Tobi Oredein is an award-winning women's lifestyle journalist, media entrepreneur and international public speaker based in London, who focuses on race, feminism, beauty politics & popular culture. Tobi has been commissioned by Buzzfeed, British Glamour, Grazia, Elle UK, Fader, The Debrief, The Independent, The Pool, Stylist, Vice and others. She has also interviewed public figures such as Ryan Coogler, Ava Duvernay and Sir Trevor McDonald.
Thank you for signing up to Whattowatch. You will receive a verification email shortly.
There was a problem. Please refresh the page and try again.