Casualty spoilers: Duffy's dementia shock!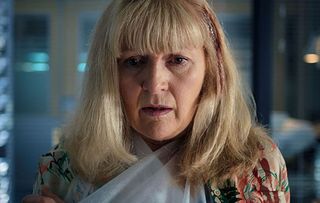 (Image credit: BBC)
Duffy's dementia secret revealed. Iain in suicide trauma. Marty lies about baby Charlotte!
Has Duffy got dementia?
Since her secret one-night stand with childhood sweetheart Bill Crowthers nurse Duffy Fairhead has fallen from grace in the eyes of many Casualty viewers. This week frightened Duffy literally has a fall and needs medical attention, but why is she keeping her true symptoms a secret?
When Duffy takes a nasty tumble at home she calls husband Charlie for help, but is left embarrassed when he gets the Holby City paramedics to bring her to the hospital instead of collecting her himself.
After bloodied Duffy is wheeled into the ED she does her best to keep a low profile, even refusing to be fast-tracked for an x-ray. Concerned, Charlie makes Duffy endless cups of tea and brings her an iPad to help while away the time, but not only does self-conscious Duffy lie about her symptoms to her medical colleagues she also looks them up on the hospital database… and makes a shocking discovery!
Her recent out-of-character behaviour, depression, anxiety and falls could be attributed to dementia! Will Duffy continue to suffer in silence?
Iain's suicide shock
Still on the waiting list for professional counselling paramedic Iain Dean continues to live in an unrelenting nightmare, plagued by dreams of Sam's death. Iain's attempts to exorcise his demons by immersing himself in his work fail him this week, however, when paramedic boss Jan Jenning unintentionally piles on more pressure by revealing he's not meeting his work targets.
Later, when troubled teenager Katy reaches out to Iain, he can't help intervening in her complicated family life. However, Iain's advice is misinterpreted and anguished Katy heads to the hospital roof… Can Iain convince distressed Katy to step away from the edge?
Later, the outcome from the traumatic incident sees Iain turning to junior paramedic Ruby Sparks. But a misunderstanding between them leaves Ruby shaken and plunges Iain further into despair…
Also this week…
Marty's love life picks up when he offers to help Robyn with baby Charlotte. While at the crèche Marty runs into Doctor Joshua Bowers (introduced when Louise first met Jade). There's an instant spark and Marty asks Joshua out for coffee – however he fails to tell Joshua that Charlotte isn't his daughter. What could possibly go wrong?
Jan is being harassed by repeated phone calls asking her for money. Who's making the calls and will she agree to pay up?
Louise is unimpressed when she discovers former ED patient, and practiced conman, Ernest thieving food from the staff room. Will she call the police?
Meanwhile, Charlie thinks he knows what's troubling Duffy. Has he discovered her infidelity and will there be a showdown?
Get the latest updates, reviews and unmissable series to watch and more!
Thank you for signing up to Whattowatch. You will receive a verification email shortly.
There was a problem. Please refresh the page and try again.