Chrissie has a plan for Andy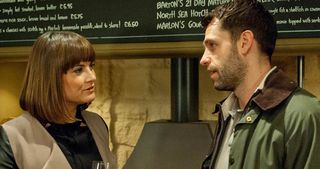 Home Farm needs a new assistant groundskeeper. Lawrence is on the hunt and Chrissie reckons she's found the perfect man in Andy. When she offers him the job will Lawrence back his daughter's decision?
Rhona has decided she's ready to hear about Paddy's affair with Tess – and she wants to know everything, from the beginning of the betrayal to the end. But as Paddy starts to explain, Rhona is sickened by what she hears and loses her temper in front of Leo. Despite this, Rhona still wants to pretend they're a happily married couple, but Paddy just can't see how it's going to work.
With Gabby's behaviour getting worse and worse, Ashley wants to tackle the problem. But he's given food for thought during his chat with Bernice, she points out that Gabby has had a lot to contend with recently and jokes that she hopes her ex has no surprises up his sleeve! With that, Ashley decides to keep quiet about Laurel's pregnancy for now.
Get the latest updates, reviews and unmissable series to watch and more!
Thank you for signing up to Whattowatch. You will receive a verification email shortly.
There was a problem. Please refresh the page and try again.