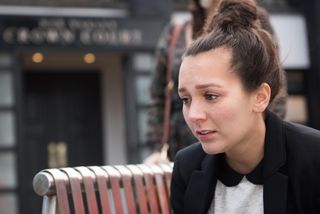 It's the day of Cleo's trial for 'killing' Rachel, and Celine and Myra notice the tension between her and Holly, while Nathan is desperate for justice. Cleo panics outside the courthouse but Nathan is furious when Cleo gets community service instead of a jail sentence and pours the contents of a bin over her head. Cleo emails Pete on their secret account and later calls him, but the number has been disconnected. At The Dog, Holly and Nathan have a movie night and they kiss. Marnie walks in and a caught-out Nathan orders Holly to leave.
Maxine's nervous when DS Thorpe turns up at the door. Sienna's livid when Maxine doesn't back her up about Nico being a murderer and Maxine tells Sienna she helped Nico escape. Later, DS Thorpe discovers the report Jason wrote about Maxine 'neglecting' Patrick and his suspicions are raised.
Also, Grace is annoyed when her half-brothers, Liam and Jesse, arrive unannounced – thanks to Esther. She wants them gone but they decide to give her a hair makeover instead. When they're finished, Grace is impressed but she's suspicious about why they've really come to visit.
Later, Liam is intrigued when he finds Trevor's life insurance policy.
Get the latest updates, reviews and unmissable series to watch and more!
Thank you for signing up to Whattowatch. You will receive a verification email shortly.
There was a problem. Please refresh the page and try again.