Will Coco's secret be revealed?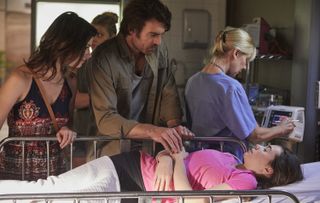 Will Leah or Tori tell Ben and Maggie the truth?
Ben finds Coco having a seizure on the ground. In a panic, he grabs Maggie and they take her to hospital. At the hospital, Coco regains consciousness and Tori runs some tests. Tori knows the real reason why Coco has collapsed and tells her that she needs to tell her parents. At The Diner, Leah finds out about Coco's health scare and decides to tell Ben and Maggie that Coco has an eating disorder. Will Leah's good intentions backfire? And when Coco gives Ziggy an ultimatum, will she finally tell the truth?
Meanwhile, Olivia is frantically sewing and making noise in the process as Hunter tries his best to study. Hunter's annoyed at how selfish Olivia is being, but she retorts by telling him he needs to take a break. She asks him, however, to run some errands during that time. Is Olivia pushing Hunter too far? And how will Hunter react when Olivia asks him for another favour that will leave him even less time for revision?
Also, the Surf Club is broken into and John's furious. Robbo is also upset, especially considering how kind John and Marilyn have been to him. When Robbo finds out how expensive the repairs will be, he decides to organise a fundraiser to cover the costs. It doesn't take long, however, for Marilyn to take over and put his nose out of joint. Robbo tells Kat his feelings, with the pair unaware they are being watched by a mystery stranger...
Get the What to Watch Newsletter
The latest updates, reviews and unmissable series to watch and more!
Tobi Oredein is an award-winning women's lifestyle journalist, media entrepreneur and international public speaker based in London, who focuses on race, feminism, beauty politics & popular culture. Tobi has been commissioned by Buzzfeed, British Glamour, Grazia, Elle UK, Fader, The Debrief, The Independent, The Pool, Stylist, Vice and others. She has also interviewed public figures such as Ryan Coogler, Ava Duvernay and Sir Trevor McDonald.