Coronation Street Spoilers: Brian Packham collapses! Will he die?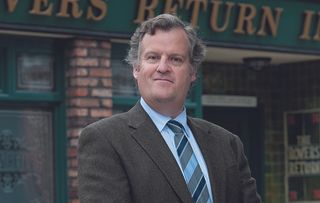 Brian Packham is so overworked he faints and collapses on the floor.
Brian Packham offers Liam a role in the nativity but after watching the dress rehearsal, Phil orders Brian to rewrite it by the morning. Overworked and clearly stressed, Brian goes to make a start but suddenly he faints, hitting his head on the table as he collapses.
Jenny is immediately suspicious when Liz asks if she can slip off for an hour, worried that she is meeting Johnny. But Liz meets up with Mike, who invites her out for dinner. Having followed Liz on the trailer app, Jenny is pleased to see Liz kissing Mike outside the cab office.
Daniel furiously blames Steff while Sinead reveals Steff only has days to live. Ken offers to give them a lift to the hospital, meanwhile, desperate to help Sinead, Beth finds a specialist cancer clinic in Germany but realises it would cost thousands.
At the hospital, Daniel tells Ken the truth about Sinead as she is told the cancer has spread and she needs to start chemo as soon as possible. Sinead tells Beth the news and as Carla takes money from the safe, Beth clocks the combination, her mind whirling.
Toyah is furious to learn of Nick's plans to move in to the flat.
First episode of Coronation Street this evening.
Get the latest updates, reviews and unmissable series to watch and more!
Thank you for signing up to Whattowatch. You will receive a verification email shortly.
There was a problem. Please refresh the page and try again.