Coronation Street Spoilers: Chesney Brown decides to propose to Gemma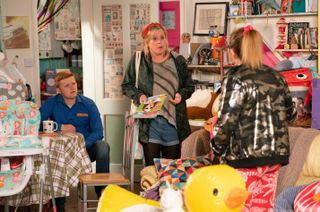 After Sinead Tinker's untimely death, Chesney Brown decides to seize the moment and pop the question to Gemma Winter... but will she say yes?
Chesney Brown decides to propose to Gemma in the second visit to Coronation Street on Monday 28th October (8.30pm, see our TV guide for full listings), so he arranges for Fiz to babysit while he takes Gemma to Speed Daal.
Once there she gets more twinges and ends up in A&E again, meaning the date is off, but that's not enough to put Chesney off, and he tells Fiz he is going to propose the following day.
Meanwhile, Daniel calls at No.1 and announces that he's taking Bertie on holiday to Scotland. Adam and Peter are concerned for him but Daniel insists it's best for everyone.
As Daniel and Bertie set off for Scotland, Beth watches, distraught that he's taking her Godson away and fearing he may never come back.
When Gail finds out from Audrey that Max has been failing to take his meds and instead, selling them at school, she's horrified and resolves to get the whole family back on track.
Liz suggests that Tracy should join her for a week in Spain as she's clearly struggling with Sinead's death. Steve reckons it's a crazy idea and they'll kill each other. Despite her initial reservations, Tracy realises that Liz means well and agrees to go.
The police question David about the attack on Josh showing him first the video footage in which David is clearly visible and then the scissors which were used as a weapon. David maintains his innocence but he's clearly worried.
Get the What to Watch Newsletter
The latest updates, reviews and unmissable series to watch and more!
James has worked for What's on TV, TV&Satellite Week and TV Times magazines for more than 20 years. His all-time favourite TV shows (in no particular order) are Inspector Morse (but he refuses to accept The Wench Is Dead), Wallander (the Krister Henriksson version, of course), Our Friends in the North, Studio 60 on the Sunset Strip, and Around the World in 80 Days (Palin not Tennant).