Coronation Street spoilers: David Platt causes a scene at the salon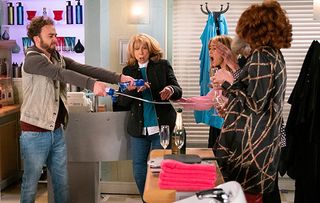 David Platt loses his temper and tells Claudia she can stick his job at the salon.
Gary breaks the news to Audrey that it's going to cost thousands to fix the dry rot in her house. Devastated, Audrey realises she'll have to sell the salon as she has no money left. Audrey swallows her pride and summons Claudia to the salon, suggesting she might like to buy her share of the business. Claudia jumps at the opportunity but when David Platt returns he's furious to discover Audrey has sold out to Claudia.
David loses his temper and tells Claudia she can stick his job. But how will David come up with the money to bail Audrey out if he wants to get his career back on track?
Announcing that he's changed his mind, Steve presents Tracy with an ovulation test kit. Tracy's horrified, realising that her plan to cool Steve down has completely backfired!
Meanwhile, when Tracy finds out from Beth that Daniel is keeping the news on Bertie's health from Sinead, she vows to put things right. But is her interference welcome?
As Kate ploughs on with their wedding plans, Rana reckons they should wait until they know the outcome of Johnny's trial. Kate's adamant he won't be sent down and continues to make decision about their future.
First episode of Coronation Street this evening.
Get the latest updates, reviews and unmissable series to watch and more!
Thank you for signing up to Whattowatch. You will receive a verification email shortly.
There was a problem. Please refresh the page and try again.