Coronation Street Spoilers: Emma Brooker is rushed to hospital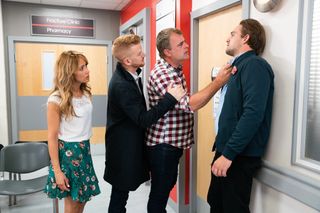 Steve McDonald is furious with Ali Neeson after Emma Brooker needs an emergency operation...
Steve McDonald blames Ali Neeson after Emma Brooker is found unconscious on the floor of her flat in today's second instalment of Coronation Street, (8.30pm, see our TV guide for full listings).
At the hospital, Steve is told his daughter has a ruptured appendix and needs an emergency op leaving him furious when he finds out Ali told her she had food poisoning and accuses him of medical negligence.
David's attempts to get fellow inmates Abe and Tez to come clean fall on deaf ears and any plans to go and see the governor are thwarted when they threaten Max and Lily.
Cathy tells a stunned Gemma that she has used the twins instagram account to get them a free room at an upmarket local hotel as long as they can use the 'Cable Car Quads' to promote the hotel.
Meanwhile, Evelyn urges Jade to take Michael for a drink to thank him for giving Hope such a lovely afternoon and Michael agrees that he'll call round later and cunning Evelyn tells him to bring his toolbox with him.
Michael calls at No.9 but is disappointed when Jade feigns illness and cancels their drink. Dejected Michael gets out his toolbox and sets about Evelyn's list of jobs that need doing.
Get the What to Watch Newsletter
The latest updates, reviews and unmissable series to watch and more!
James has worked for What's on TV, TV&Satellite Week and TV Times magazines for more than 20 years. His all-time favourite TV shows (in no particular order) are Inspector Morse (but he refuses to accept The Wench Is Dead), Wallander (the Krister Henriksson version, of course), Our Friends in the North, Studio 60 on the Sunset Strip, and Around the World in 80 Days (Palin not Tennant).