Coronation Street spoilers: Max Turner ruins Lily's birthday party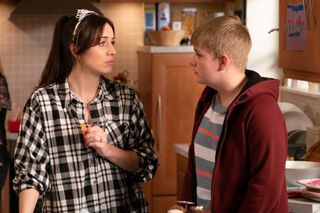 Shona has to ask everyone to leave Lily's party when Max Turner causes a scene
Shona and Billy prepare for Lily's birthday party in Coronation Street and prey that everything will go smoothly. But Max Turner is playing up and pretending to take his ADHD medicine he pockets the tablets. When Nick arrives with Lily's present Max kicks off and Shona has to ask everyone to leave.
Tim calls at No.11 and tells Eileen to pull herself together as she's needed back on the Street Cars' switch. Eileen's touched and heads upstairs for a shower.
Blaming Audrey for keeping her in the dark Emma announces she is leaving Weatherfield and packs her bags. Despite everyone, including Amy, persuading her to stay she sadly says goodbye to Maria, Gemma and Chesney. Amy tells Steve and Tracy they have to sort it out as she is part of the family.
With Roy run off his feet, Aggie offers up her services behind the counter and he agrees to give her a trial.
Bethany tells an impressed Daniel that she's decided she's going to write up her experience with Nathan as it might help other girls to avoid falling into the same trap.
First episode of Coronation Street tonight.
Get the latest updates, reviews and unmissable series to watch and more!
Thank you for signing up to Whattowatch. You will receive a verification email shortly.
There was a problem. Please refresh the page and try again.