Coronation Street Spoilers: Michelle Connor calls an ambulance for Robert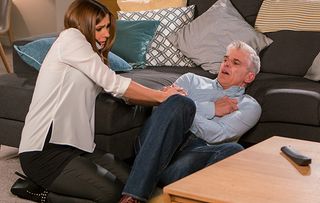 (Image credit: Andrew Boyce)
Michelle Connor is worried as Robert is rushed to hospital with searing chest pains.
With Robert still in pain on the floor, Michelle Connor desperately phones an ambulance. In the hospital, Robert's taken for tests and Michelle's shocked when he admits he may have pushed himself too hard at the gym.Steve finds a terrified Eileen in the cab office. He phones the police and Eileen revelas she's been bombarded with prank calls but this time the caller had the voice of her dead husband, Phelan. When it's suggested the voice could have been lifted from an answerphone message, Eileen's horrified. Rattled, she accuses Alya of making the prank calls before returning home to find someone has thrown a brick through her window. As Eileen's phone rings we see the caller lurking in the ginnel...who is it?
[Corrie is a one-hour special tonight, we have split our preview into two parts this is PART TWO]
The police question Kate and Rana about the attack and reveal that Phil remembers seeing an Asian male but the pair act dumb. Elsewhere, Imran calls at Speed Dhal and proudly reads out a review. His guilt over his attack on Phil weighing heavily on his mind, Zeedan announces he's packing in the restaurant and leaving. Imran, Yasmeen, Alya and Rana are stunned.
When Fiz orders Tyrone to keep Abi away from the girls on the grounds she's a junkie, Tyrone's appalled at her attitude. When she spots Tyrone and Abi sharing a drink after work, Fiz can't bear to watch. Izzy's appalled when she asks Hope to spy on Abi and report back.
Get the latest updates, reviews and unmissable series to watch and more!
Thank you for signing up to Whattowatch. You will receive a verification email shortly.
There was a problem. Please refresh the page and try again.