Coronation Street spoilers: Pat Phelan forces his way into no. 11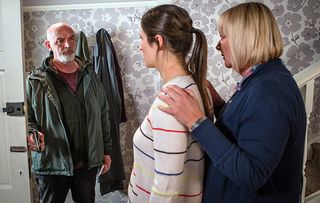 (Image credit: Andrew Boyce)
Pat Phelan points his gun at Nicola and Eileen – who will make it out alive?
Incandescent with rage, Pat Phelan ties up Gary and Sarah and heads to No.11 brandishing his gun. To Eileen's horror, Phelan forces his way in and a gunshot rings out from inside. Has Phelan killed again? And who is the victim?
Daniel breaks the news to Michelle that Robert's on his way to London having seen Steve kiss her. Michelle turns on Steve and blaming him for Robert's departure, orders him to get him back. Will the wedding go ahead?
The police interview Josh about David's rape claim and he refuses to comment. Later, Gail and Audrey listen in horror as David describes his rape ordeal and how Aidan's death made him realise he had to face his demons. Gail hugs him emotionally.
Gemma explains to Rosie and Olivia her plan to swap the bags of cocaine for icing sugar and then plant the actual cocaine in Antoine's luggage in the hope he'll get nicked at the airport.
Get the latest updates, reviews and unmissable series to watch and more!
Thank you for signing up to Whattowatch. You will receive a verification email shortly.
There was a problem. Please refresh the page and try again.