Coronation Street spoilers: Paula ends it with Sophie Webster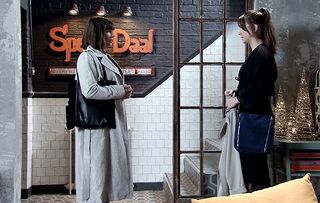 Paula ends it with Sophie Webster but worse news is to come
Having listened to the evidence, Tim is once more of the belief that Sally may have had an affair. Sally is devastated that he believes Duncan's lies and Gina's devious words. Meanwhile, Paula ends it with Sophie Webster but worse news is to come when Sally heads back into court for her sentencing...
After a successful physio session, Jack announces that he wants to do some fundraising for the hospital and Kevin's clearly proud of his son. Greg offers his full support when Jack reveals his one-legged race fundraiser idea.
Kate and Rana attend the fertility clinic. Kate's giddy with excitement whilst Rana does her best to appear enthusiastic. The pair agree between them that Kate will carry their baby. Kate's thrilled and tells Rana she can't wait to be pregnant. Will Rana break Kate's heart and tell her she's having second thoughts about starting a family?
Jenny secretly puts Liz's phone in water and gets the desired effect when it fails to turn on. When Liz realises it isn't working, Jenny is all smiles as she says she is due an upgrade and offers Liz her old phone. What is she up to?
Aware that Robert is desperate to have a baby with her, Michelle suggests they take the afternoon off by way of a treat. When Angie explains that she's changed the locks at No.3 as she needs to move on, Mary's upset and vows to continue her search for Jude alone.
Coronation Street continues tonight at 8.30pm
Get the latest updates, reviews and unmissable series to watch and more!
Thank you for signing up to Whattowatch. You will receive a verification email shortly.
There was a problem. Please refresh the page and try again.