Coronation Street spoilers: The police question Kevin Webster at the garage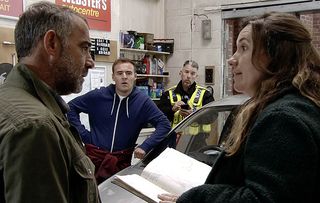 Kevin Webster tells the police that Abi is a trusted mechanic. But is he started to suspect there is something sinter at work?
The police question Kevin Webster about Michelle's car, explaining that it was involved in a fatal crash. Kevin confirms that Abi serviced the car and she's a trusted mechanic.
Ken is horrified when Sinead reveals she doesn't want to tell Daniel about the cancer as she doesn't want him put in a position where he has to choose between her and the baby. Will Ken agree to keep her secret?
Roy tells Jude he has been shortlisted for a Good Samaritan award. Angie suggests they celebrate over dinner at the Bistro where she apologises for going on the date behind his back. Jude is pleased that they seem to still have a spark but is he just kidding himself?
Gary tells Kevin that he has an old army mate who's an amputee and trains with the Paralympians. He suggests it might be good for Jack to meet him and Kevin agrees. When Cathy excitedly shows Brian some holiday brochures, he breaks the news that Phil, the Deputy Head, has tasked him with running the holiday club and it's an honour he can't refuse. Masking her disappointment, Cathy assures him he has her full support.
Second episode of the evening. Coronation Street continues on Monday at 7.30pm.
Get the latest updates, reviews and unmissable series to watch and more!
Thank you for signing up to Whattowatch. You will receive a verification email shortly.
There was a problem. Please refresh the page and try again.