Coronation Street spoilers: Sarah Platt confronts Ryan – with terrible results…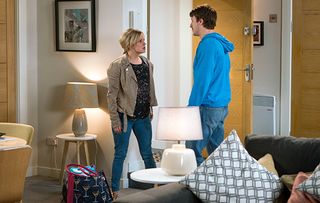 (Image credit: Andrew Boyce)
Sarah Platt shoves Ryan and he hits his head and collapses.
Bethany and Ryan kiss passionately after their date but Bethany freaks out as he tries to go further. Panic stricken she runs out of the door just as Sarah Platt rounds the corner. Sarah goes into Ryan's flat demanding answers but when he says Bethany is a tease she shoves him before storming out. Ryan stumbles and hits his head before collapsing. At Craig's flat Bethany is upset telling Craig she had a panic attack when Ryan kissed her.
Robert suggests to Michelle that they should have some fun in the Bistro freezer. Neither see Ryan sneak in, to steal some steaks for his romantic dinner with Bethany, and accidently nudge the door shut, leaving them locked in! When the shivering couple are eventually released and return home, they find an unconscious Ryan on the flat floor and call an ambulance.
David starts his community service at Jamila house but when Bily drops in to see him the other offenders are less than impressed he is friends with a vicar. Later, David calls in the cafe and stuns Shona by getting down on one knee and proposing. But she tells him the time isn't right.
Returning from the vets, Ken says Eccles ate a sausage sandwich laced with slug pellets and Simon realises Tyler is responsible.
Ali tells a tearful Kevin that Jack is not responding to the antibiotics as well as they had hoped and Sophie blames herself. Ken says he will pay for Tracy's wedding if she has a double wedding with Daniel. Beth asks Kirk to do some digging on Alya for Carla. Toyah suggests Ken take Simon to a cottage in Cornwall until the court case.
*1 Hour Episode* Times and date of this episode likely to change due to World Cup.
Get the latest updates, reviews and unmissable series to watch and more!
Thank you for signing up to Whattowatch. You will receive a verification email shortly.
There was a problem. Please refresh the page and try again.