Coronation Street spoilers: Tyrone tells Evelyn Plummer to move out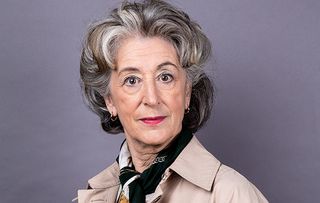 (Image credit: Joseph Scanlon)
Tyrone and Fiz want Evelyn Plummer to leave, but is she ready to go?
Telling her she's gone too far this time and he has to put Fiz and the girls first, Tyrone insists that it's time a stunned Evelyn Plummer moved out. Tyrone returns home with Evelyn in tow and assures Fiz that they've agreed she'll move out. However, when Evelyn points out that she'll have to go somewhere dog friendly, Fiz suspects she's playing for time and isn't going anywhere fast.
Robert tells Kate her idea is crazy and sends her packing. But will he change his mind when he talks to Michelle?
After speaking to Sophie, Tim decides it is is time to talk to Sally and work out what's going on between them. Meanwhile, in the visiting room, Sally tells Gina she is glad Tim is ready to talk but Gina explains that she shouldn't meet with him yet as he is still too angry with her. Unaware of Gina's scheming, Tim is upset when Sally cancels their meeting. Will he finally give up on trying to talk to her and fall into the arms of Gina?
Kevin is moved to tears when Jack tries his new prosthetic leg and takes his first tentative steps.
Coronation Street continues on Monday at 7.30pm
Get the latest updates, reviews and unmissable series to watch and more!
Thank you for signing up to Whattowatch. You will receive a verification email shortly.
There was a problem. Please refresh the page and try again.