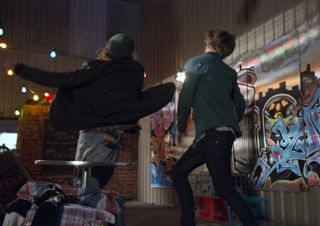 Daniel comes up with the idea of giving out free coffee at Off Air. However, when free coffee becomes free food for one down-on-his-luck punter, Karl objects, yet Daniel's adamant this is the right thing to do. Later, Daniel's alone locking up when the homeless man returns and lashes out, leaving Daniel unconscious...
Brad's shocked when Paige accuses Terese of trashing Harold's, while Terese protests her innocence. She decides to work from home for the day, and is buoyed when Imogen reveals Brad believes she's innocent. She seeks him out at the Turner house, only to witness an intimate moment between him and Lauren where Brad admits he was miserable in his marriage. Shattered, Terese goes home alone.
Aaron, Tyler and Mark babysit for Nell for the day and Aaron teases Mark about wanting kids. Tyler's startled to learn that Mark is keen on the idea of having babies with Paige and squirrels the new information away for later.
Get the latest updates, reviews and unmissable series to watch and more!
Thank you for signing up to Whattowatch. You will receive a verification email shortly.
There was a problem. Please refresh the page and try again.