Doctors spoilers: Has Dr Sid Vere's quick-thinking saved brothers Tom and Frankie?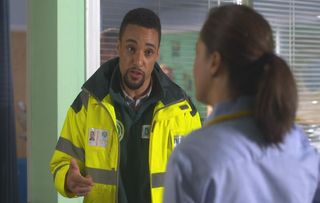 While Sid waits at the hospital for news of sick brothers Tom and Frankie, the poisoning case becomes a police investigation
The quick-thinking actions of Dr Sid Vere have seen brothers Tom and Frankie rushed to hospital, after the boys fell sick during a camping trip. However, it's still touch-and-go for the brothers, since Sid suspects they have been exposed to a dangerous chemical from a nearby farm.
Following information from Sid about some bottles he saw at the campsite, policeman Rob Hollins investigates at the farm, who have recently turned their field into an official campsite.
However, after questioning farmer Gavin Savage and his wife Jill, Rob begins to suspect there's some kind of cover-up going on. And his suspicions are further fueled when he finds a liquid trail leading to a stash of the bottles Sid saw, hidden beneath some tarpaulin.
Have the farm owners been using illegal chemicals which led to the poisoning of Tom and Frankie?
Meanwhile, Zara Carmichael is in trouble with her son Joe's school, after loudly campaigning on his behalf with a megaphone outside the school.
However, it looks like Zara's pushy mum antics have paid off when she discovers Joe has been successfully elected as School Councillor!
Doctors continues weekdays at 1:45pm on BBC One
Get the latest updates, reviews and unmissable series to watch and more!
Thank you for signing up to Whattowatch. You will receive a verification email shortly.
There was a problem. Please refresh the page and try again.