Doctors spoilers: Is Ayesha Lee in denial about her ordeal?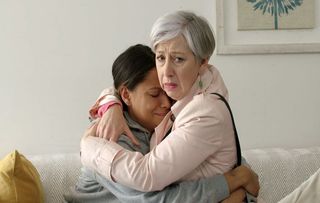 With no evidence to back-up her fears she was raped, surgery nurse Ayesha puts on a brave face and tries to go about business as usual
Last week, Ayesha Lee broke down in her friend Valerie Pitman's arms after she feared her drink was spiked at a bar during a night out and she was later sexually assaulted.
Trouble is, a police and medical investigation hasn't turned-up any evidence of rape and Ayesha's memory of that night are still fuzzy. Not knowing the truth is just as bad as knowing the truth.
Valerie is worried as surgery nurse Ayesha gets ready for work at The Mill as if nothing has happened. But when Valerie tries to convince her to take the day off, Ayesha makes it clear she just wants to get on with everyday life.
But it soon becomes clear Ayesha is struggling to focus on her job. And when she's suddenly hit by a SHOCK flashback, she decides enough is enough and decides to call her university friend, Hannah Marshall, to see if she can remember anything important about their night out together...
Meanwhile, at the partners' meeting, practice manager Becky Clarke drops a bombshell when she reveals she's having doubts if working at The Mill is the right place for her!
Could Becky's sudden change of heart have anything to do with the fact she recently hooked-up with Dr Daniel Granger?
Daniel feels guilty that Becky might quit her job because of what happened. But he's in for a pleasant surprise when Becky later turns up at his place and admits she can't stop thinking about him... leading to a kiss!
Elsewhere, Sid Vere tries to get to the bottom of a medical mystery when a man, Steve Swift, believes his mum Annie Emberley was diagnosed with cancer without his knowledge.
But things are not what they seem, and the plot thickens when Annie's estranged daughter, Lyn suddenly reappears on the scene, attempting to help her mum during her 'dying days'...
Doctors continues weekdays at 1:45pm on BBC One
Get the latest updates, reviews and unmissable series to watch and more!
Thank you for signing up to Whattowatch. You will receive a verification email shortly.
There was a problem. Please refresh the page and try again.