Doctors spoilers: Is an evil dwarf stalking Letherbridge on Halloween?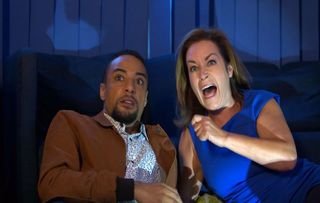 During a powercut on Halloween, Sid and Zara find themselves locked in the surgery. But is one of their ghost stories about to come to life?
Dr Zara Carmichael is not impressed when she and colleague Dr Sid Vere find themselves accidentally locked in the surgery during a power cut on Halloween.
After discovering the 24 hour emergency call-out man is at a Halloween party and could be a while, the medics decide to pass the time by raiding the surgery fridge and telling ghost stories.
But when Sid tries to put the frighteners on Zara with the tale of El Duende, an evil whistling dwarf from Latin America who terrifies children, the doctors are both in for a scare when they hear a spooky whistling and someone (or something!) approaches...
Elsewhere, Valerie Pitman, Al Haskey, Jimmi Clay and Emma Reid get together for another of their Dinner Winner sessions.
Al is hosting and determined to win the challenge. Since it is Halloween, he has fancy dress costumes for his guests. But things take a creepy turn when surgery receptionist Valerie - dressed as the Woman In Black - starts speaking in a creepy voice. Has she been possessed?
And things are just as spooky down at the local police station when Rob Hollins encounters a stranger, Samuel Roswell, armed with a plastic bag containing something head-shaped...
Doctors continues weekdays at 1:45pm on BBC One
Get the latest updates, reviews and unmissable series to watch and more!
Thank you for signing up to Whattowatch. You will receive a verification email shortly.
There was a problem. Please refresh the page and try again.