Doctors Spoilers: Will Jimmi Clay break up with Amanda?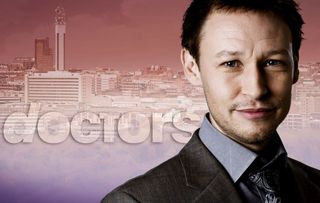 It looks like this is the end for Jimmi and his ex-wife Amanda when she packs her bags and prepares to walk out the door...
After a chat with his work colleagues at the surgery, Dr Jimmi Clay is not particularly looking forward to having lunch with his ex-wife, Amanda Vardalis.
Amanda senses the tense atmosphere between them and wonders what's wrong. Aren't they having a nice time now they are living together again?
But Jimmi questions their past relationship and the fact he was still a teenager when older woman Amanda first made a move on him. Did Amanda take advantage of him? Should their relationship have happened at all?
Amanda is shocked Jimmi appears to be blaming her for the past when he seemed to enjoy their relationship at the time. Amanda decides to pack her bags and gets ready to leave. But, to his surprise, Jimmi finds himself begging her to stay.
Suddenly hit by an idea, Jimmi heads to The Mill where he asks Mrs Tembe how long it will take to withdraw all his partnership money! Is Jimmi planning to sell-up and run off with Amanda?
Doctors continues weekdays at 1:45pm on BBC 1
Get the latest updates, reviews and unmissable series to watch and more!
Thank you for signing up to Whattowatch. You will receive a verification email shortly.
There was a problem. Please refresh the page and try again.