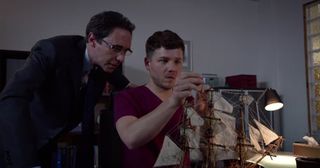 Dom's given food for thought when a spiritualist patient turns up at Holby
Still struggling to cope with the death of his best friend Arthur Digby, Dominic turns up at work with Arthur's unfinished model ship. As Dom treats elderly spiritualist, Mary, who collapsed during a 'trance', he's cynical about Mary's abilities, but she then gets a message - it's from Arthur, telling Dom: 'Sail my ship!'
As Dom and Sacha have a go at mending the ship, they're interrupted by Holby boss Hanssen, who sends them back to work. As they talk, Sacha realises Dom hasn't yet properly grieved over losing Arthur. Later, Dom's surprised to find that Hanssen's almost fixed the ship.
After finishing it together, they take it to a lake where they fulfil Arthur's wishes and sail it. However, when the ship sinks, Dom is overcome with emotion...
Meanwhile, Fletch is like a bear with a sore head when Naomi dumps him, having given him no warning. Raf feels guilty as he considers himself partly responsible for her sudden change of heart, and battles to mask his true feelings her. But Fletch soon works out what's going on...
Also, Ollie's confident he can deliver on Jac's list of jobs before a major op on a world-famous tennis player. But there's more to worry about when there's a serious incident and Jac and Ollie are caught in the crossfire…
Get the latest updates, reviews and unmissable series to watch and more!
Thank you for signing up to Whattowatch. You will receive a verification email shortly.
There was a problem. Please refresh the page and try again.