Emmerdale spoilers! Bernice Blackstock and Liam caught kissing?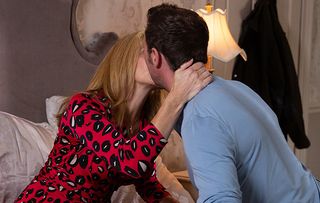 Bernice Blackstock is being cared for by Liam Cavanagh when someone approaches. Have the lovers been seen sharing a steamy kiss?
So Bernice Blackstock has told her boyfriend Daz Spencer he needs to move back into his brother Dan's place. She's even offered to pay his rent. But there's a reckless reason behind the phoney request: Bernice (Sam Giles) is having a steamy fling with newly single doc Liam Cavanagh (Jonny McPherson) and wants her boyfriend out of the way! But is Daz (Mark Jordon) about to find out Bernice is doing the dirty on him?
When Bernice hurts herself, Liam comes to the rescue and the lovers start kissing…
But does someone see them? And is that 'someone' Daz?
Victoria Barton has gone off to meet dodgy PI Glen, who has since turned furious because she's mislaid his payment. Matty's pocketed it to spare Vic, who's being ripped off by Glen who's feeding her a pack of lies. But now Robert, Aaron and Matty are worried about Vic and are on a mission to locate her. The lads manage to track Vic but when they get to the spot she's meant to be, all they find is her mobile discarded on the ground! Where is Vic and is she OK?
At Farrers, Maya Cavanagh has moved in with boyfriend David Metcalfe and it's all cosy cosy. Even Jacob is into it. But is that because he's got a stonking great crush on Maya?
Second episode on this evening. Emmerdale continues on ITV tomorrow at 7pm.
Get the latest updates, reviews and unmissable series to watch and more!
Thank you for signing up to Whattowatch. You will receive a verification email shortly.
There was a problem. Please refresh the page and try again.