Emmerdale spoilers: Truth time! Bernice demands to know what Liam's hiding from her!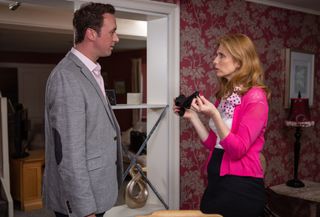 Bernice wants answers from boyfriend Liam when she finds a balaclava in his bag. Will she find out what he's hiding from her at last?
When Bernice Blackstock (Sam Giles) dared to ask Liam (Jonny McPherson) about his late wife Lara, a few weeks ago, she got her head bitten off.
Tearing strips off his girlfriend for trying to piece together his past, she learned not to go near the topic again as her boyfriend froze her out as punishment for 'snooping'.
But was her sister Nicola (Nicola Wheeler) right when she suggested Liam's snappy reaction was the behaviour of a man with something to hide?
In the Woolie, Nicola's suspicious fire is fuelled when Bernice accidentally knocks over her boyfriend's bag only to find a balaclava inside! Seeing as it's June, it's hardly the weather for woolly headgear, so what's it for? Is the well-heeled gentlemanly doctor too good to be true?
Later, at Brook Cottage, flustered Bernice confronts Liam about it… Will he kick off or open up? Is Liam hiding something horrible?
Emmerdale continues on ITV.
Get the latest updates, reviews and unmissable series to watch and more!
Thank you for signing up to Whattowatch. You will receive a verification email shortly.
There was a problem. Please refresh the page and try again.