Emmerdale spoilers: Can Kerry and Amy Wyatt keep their SHOCK secret?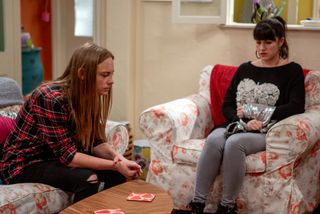 As the investigtaion into the factory fire continues, will either Kerry or Amy crack and make an incriminating SHOCK confession?
Kerry Wyatt (played by Laura Norton) is still feeling shaken after being questioned by the police over the factory fire on Emmerdale.
After throwing suspicion in another direction, Kerry hopes the heat is off her and daughter Amy (Natalie-Ann Jamieson) for the moment, since it was the two of them who may have accidentally started the destructive blaze on the day of the village Wild West themed charity fundraiser.
But will one of them crack under the pressure of their guilty secret?
Kerry is alarmed when she discovers Amy came close to telling local farmhand Nate Robinson (Jurrell Carter) what she did...
Kerry warns Amy to keep schtum and their secret will remain underwraps. So far nobody knows Kerry broke into the factory safe and stole the charity money to help Amy clear some old debts. But mum and daughter may have accidentally started the fire while they were destroying CCTV footage of Kerry's crime.
But how long will it be before one of 'em cracks under pressure?
Meanwhile, Jai Sharma (Chris Bisson) has to deliver some hard truths to his family in the aftermath of the factory fire.
The Sharma family are facing financial ruin with a high interest loan due to be paid back to Kim Tate (Claire King). And to make matters worse, the insurance company may not payout since it was discovered the fire alarm was switched off at the factory at the time of the blaze and the circumstances are looking highly suspicious.
As a result of their downfall, will Kim swoop in and get her wish fulfilled to buy the factory and sink her claws into yet more of the village? Or does Jai still have some fight left in him to find a way to bail out his troubled family?
Emmerdale continues weeknights at 7:00pm on ITV
Get the latest updates, reviews and unmissable series to watch and more!
Thank you for signing up to Whattowatch. You will receive a verification email shortly.
There was a problem. Please refresh the page and try again.