Emmerdale spoilers: Will Harriet crumble and take back her ex-con ex Will?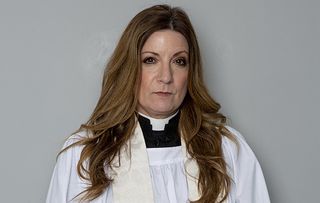 Harriet receives another text message from Will her ex who is determined to get back together with the vicar
Harriet (Katherine Dow Blyton) is having an emotional nightmare right now. Her ex, Will (Dean Andrews), who recently tried to kill her in revenge for exposing the drug lord and landing him behind bars for a long spell, is now on her case in a different way.
Having slept with him a few weeks back, old feelings have resurfaced. Yet while Will is being very vocal about his, she's pretending the feeling isn't mutual.
Trouble is, Dawn (Louisa Bromley), Will's damaged daughter, has made it very clear to Harriet that she will never trust her dad again and that he's not to set foot anywhere near them.
Though Harriet's already told Will he has no chance of getting her back, it was clear she didn't really mean it - and Will is determined not to give up on her. As he sends her another message, can he crack the vicar's steely resolve?
Laurel is really concerned about Harriet's bond with Will. When the vicar assures her she won't let him back in her life, Laurel's appeased. But does Harriet actually believe her own words?
Elsewhere, Bear (Joshua Richards) tries to cobble together a pub footie team, and Billy (Jay Kontzle) calls Max (Jordan Reece) to warn him to steer clear of his family.
Emmerdale continues on ITV.
Get the latest updates, reviews and unmissable series to watch and more!
Thank you for signing up to Whattowatch. You will receive a verification email shortly.
There was a problem. Please refresh the page and try again.