Emmerdale spoilers: Bored of Dan, has Kerry pulled a new man?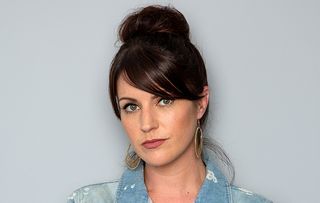 With her relationship with Dan Spencer dead in the water, bored Kerry Wyatt scores a phone number. Has she got a new man?
It's painful to watch Kerry Wyatt (Laura Norton) and Dan Spencer (Liam Fox) pretending they're still together. And it must be pretty horrible for Amelia Spencer to have to live in amongst their lie. But the exes think they're doing the best by teenage Amelia who used to be at the heart of their once happy relationship.
But the charade is grating on Kerry who's bored out of her mind and secretly in the market for a new man. Having recently had a friend of Liam Cunningham's after her, Kerry's still got it. And, as she bags a phone number, is it safe to assume she's landed herself an admirer?
Jealous Priya Sharma (Fiona Wade) couldn't stand it when her new stepsister Aiesha Richards (Shila Iqbal) toadied up to her dad Rishi (Bhasker Patel) on his birthday. But she regrets being so mean to Aiesha and sets out repair the damage…
This is the second of tonight's episodes
Get the latest updates, reviews and unmissable series to watch and more!
Thank you for signing up to Whattowatch. You will receive a verification email shortly.
There was a problem. Please refresh the page and try again.