Emmerdale spoilers! Ryan attacks his rapist dad DI Bails!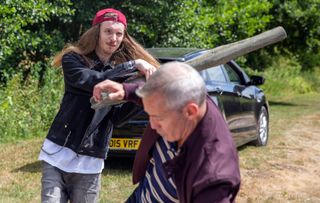 Ryan attacks his dad DI Bails and asks him to plead guilty to raping Charity
With the trial approaching, Charity Dingle is totally stressed out.
She's opened Pandora's Box in unearthing her painful youth, which saw her groomed and raped by older man Bails, who's now a DI.
On the upside of all the pain, Charity's discovered she has a grown-up son, Ryan, who she was told had died at birth. Strengthened, the brave mum (played by Emma Atkins) has dug deep to face her fears and is now hoping Ryan's rapist dad will go down for his evil awful deeds.
Seeing his biological mum going through such torment, Ryan Stocks (James Moore) calls Bails (Rocky Marshall) and asks to meet up with him.
But slippery Bails - who's trying to play the good guy - shows his true colours when Ryan asks him to plead guilty… Incensed by Bails, Ryan attacks him with a plank of wood! Bails warns worried Ryan he's made a major mistake.
When Cain later tells Charity that Ryan's been arrested for assault, she utterly thrown. Her ex insists Ryan will be OK but Charity's overriding concern is that dodgy cop Bails is up to something and is going to end up getting off scot-free...
Emmerdale continues tomorrow night at 7pm on ITV.
Get the latest updates, reviews and unmissable series to watch and more!
Thank you for signing up to Whattowatch. You will receive a verification email shortly.
There was a problem. Please refresh the page and try again.