Esther finds Kim in a trance!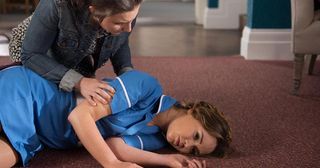 Esther worries when she finds Kim in a very bad way in Hollyoaks
Esther's trying to do damage limitation after choosing Grace over Kim. Meanwhile, Cindy and Grace are at war about Hilton not being invited to Curtis's birthday party. As Esther puts her foot down when Cindy tries to sabotage the event, Grace is impressed with her fiery attitude and asks her to be a co-parent to Curtis - but that means moving in with her… and without Kim.
After an awful first day back at work, Kim's further devastated when Grace tells her about her proposition to Esther. Later, Esther and Frankie panic when they arrive at The Boarding House to find Kim collapsed on the floor in the foetal position, in a trance-like state.
Meanwhile, Lisa decides to set up Zack and Holly and leads them to the school roof where they enjoy some drinks alone and end up kissing. As Sonia and Lisa fight on The Dog patio, Lisa hurts her wrist, so Cleo takes her to hospital. But Lisa refuses to be treated by Kim and calls her a murderer in front of the other patients.
Elsewhere, Holly's furious when, having slept together, Zack reckons they should just stay mates. Knowing he's feeling guilty about Sonia, Holly tells Zack to go for it with Sonia, so he tells Sonia he loves her.
Also, when Cleo gets a job at The Dog, it seems her and Nathan are getting closer.
Get the latest updates, reviews and unmissable series to watch and more!
Thank you for signing up to Whattowatch. You will receive a verification email shortly.
There was a problem. Please refresh the page and try again.