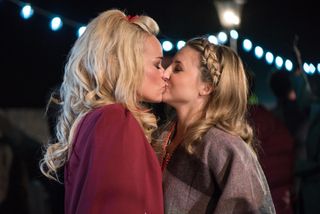 It's Tom's 16th birthday and, as Esther and Grace try to make him a cake, Esther longs to tell Grace how she feels about her. Meanwhile, Nancy's concerned about Jade and forces Lisa to tell her what's wrong. Darren finds some leaflets about cancer among Tom's birthday cards and looks towards Nancy – is she ill? Later, Jade admits she's the one who might have cancer. Darren realises how much he cares for Nancy and, as they watch the New Year fireworks, he kisses her. Esther decides to show Grace how she feels, too, and kisses her - but Grace walks off leaving Esther mortified!
Desperate to stop any further tragedy, Kim confiscates Lindsey's kill kit. Mercedes confides in Lindsey and Kim that she doesn't want to rush into having a baby. Kim encourages Mercedes to tell Joe, thinking this might put him off. Lindsey's devastated when Joe's happy to wait and wants him and Mercedes to spend New Year's Eve alone together. Lindsey soon finds her kill kit and Kim panics at the thought of Lindsey going after her next victim… Mercedes. Later, the guilt gets to Mercedes and she tells Joe the truth about Gabriel. Joe walks off and leaves Mercedes alone… with Lindsey in pursuit.
Also, Patrick's suspicious when Maxine comes home the next morning from a night drinking with Neeta, thinking she's been with Darren. Patrick records another message to be played after his death but, when baby Minnie accidentally plays the message on his laptop, Maxine's shocked by what she hears. She hears Patrick talking about her and Darren and is devastated that, after everything she's done, he could think she'd still cheat on him.
Get the latest updates, reviews and unmissable series to watch and more!
Thank you for signing up to Whattowatch. You will receive a verification email shortly.
There was a problem. Please refresh the page and try again.