Evil Ashley has Sienna and Nico in her clutches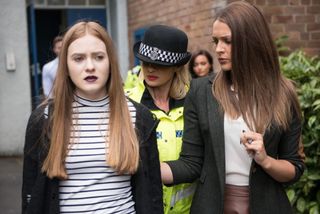 Ben finds Sienna and Nico before Ashley does and puts them in an interview room at the station for safety but Ashley is watching from the shadows. Sienna and Nico are alarmed to hear Ashley's after them and think she must know about their part in Carly's death. The fire alarm goes off at the police station and Ashley – who's disguised herself as a police woman – leads Sienna and Nico away. And they're very afraid when Ashley locks them in a car and threatens to pour petrol around them. Sienna manages to smash the window as Ashley drags Nico out of the car. Sienna hits Ashley over the head and, when she falls lifeless to the ground, Sienna and Nico wonder whether they've killed again…
John Paul is hauled in front of Patrick about his kiss with Harry and the hotel mix-up. Patrick tells him to stay away from school until he's investigated further and Nancy feels terrible. Meanwhile, Harry's heart sinks when Patrick says he'll have to tell Tony what's happened. As Ste goes to see John Paul to tell him the truth, Harry intercepts a call from the school to his dad.
Freddie and Kim are desperate to make up with Lindsey but Freddie's heartbroken when Lindsey gives back her wedding rings. He tells Mercedes that he's moving to Valencia to work at his friend's bar. Unsure about whether she wants to spend the rest of her life with Joe, Mercedes asks Freddie if she can go with him.
Jason doesn't have enough evidence to keep Kyle in prison. After Robbie and Jason fight over Holly, Jason tells Trevor that Robbie's working for the police. Later, Robbie meets up with Grace – she wants Trevor in prison too, so she can have Curtis!
Get the latest updates, reviews and unmissable series to watch and more!
Thank you for signing up to Whattowatch. You will receive a verification email shortly.
There was a problem. Please refresh the page and try again.