Gail and Michael kiss in Corrie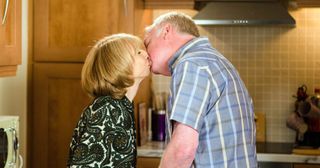 (Image credit: Joseph Scanlon)
Gail and Michael admit how they really feel
David and Kylie eavesdrop when Gail steps on a screw and Michael offers to kiss it better - the chemistry between them is evident. So David and Kylie are thrilled when they admit they've missed each other and kiss.
In the Rovers, Nick waits for Leanne, wondering what's holding her up. Meanwhile, in her flat, Leanne stares at the positive pregnancy test in disbelief. She finally shows up for her drink with Nick but soon panics and rushes out. Hurt, Nick calls on Leanne and tells her he won't be made a fool of - leaving Leanne crushed.
Having cracked open the wine, Todd talks to the bishop about the Church and homosexuality. Having seen the bishop into his taxi, Todd and Billy share a passionate kiss. But when Todd tries to undo Billy's shirt he pulls away explaining that they need to take things slowly.
Sinead tells Chesney that Gemma's a thief while Gemma swears she paid for Macca's kebabs out of her own pocket. When Chesney counts up the float, Sinead apologises through gritted teeth. Aware of Audrey's interest in Ken, Freddie offers to put in a good word for her. Kylie sets about putting her stamp on the annexe with some soft furnishings.
Get the latest updates, reviews and unmissable series to watch and more!
Thank you for signing up to Whattowatch. You will receive a verification email shortly.
There was a problem. Please refresh the page and try again.