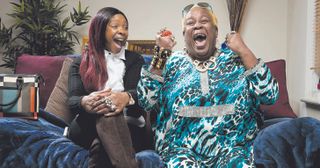 (Image credit: Jude Edington)
Relive the best bits of your favourite TV-watchers in this compilation
'June! June! It's starting!' Retired teacher Leon's call to his wife is always a great start to the weekend, so we're glad that Gogglebox is back briefly for a 'best of' compilation. As usual, it's not so much the TV programmes that they're watching, or even sometimes their reactions to the shows, but the little bits in between – Sandy and Sandra discussing Sandra's new hairstyle, Dad Malone being soppy with one of his dogs, or sisters Ellie and Izzi talking about a massive breakfast one of them had as a hangover cure. We're already looking forward to the next series, but at least we've got the junior version, Gogglesprogs, to enjoy in the meantime (8.00pm, C4).
Thank you for signing up to Whattowatch. You will receive a verification email shortly.
There was a problem. Please refresh the page and try again.