The Greatest Showman - Sky Cinema Premiere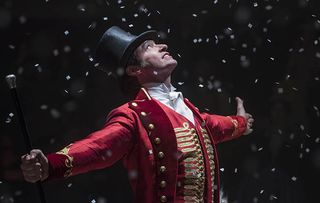 (Image credit: 20th Century Fox)
As 19th-century circus impresario PT Barnum, Hugh Jackman is ideal in this colourful musical extravaganza
As 19th-century circus impresario PT Barnum, Hugh Jackman is ideal in this colourful musical extravaganza.
A winner of acclaim and awards for his stage appearances on Broadway and in the West End, as well as his native Australia, Jackman's an old-style song-and-dance man at heart - and so a perfect fit for the man who basically invented showbusiness.
The ragged son of a poor tailor, Jackman's Barnum cocks a snook at the snobs in 19th-century New York - first by marrying Michelle Williams, winsome daughter of a disapproving upper-class family, and then by creating his own theatre in the heart of the city.
He assembles a band of misfits and oddballs, including a bearded lady (mighty-lunged singer Keala Settle) and a dwarf (Sam Humphrey) he dubs General Tom Thumb, and lets the public goggle and gawp at their talents and attributes.
As far the movie is concerned, he is a figure of empowerment, giving people whom society shuns the chance to shine. Even if it fictionalised and sanitised version of Barnum's life, the movie sells its ideas with such brazen pizzazz we're happy to be taken in. Indeed, the original Barnum would heartily approve of the gaudy package here.
La La Land's songwriting team of Benji Pasek and Justin Paul provide the foot-stomping tunes and Australian visual effects artist-turned-director Michael Gracey supplies the spectacle, while supporting stars Zac Efron, Rebecca Ferguson and Zendaya help ringmaster Jackman kick up a storm.
Get the latest updates, reviews and unmissable series to watch and more!
Thank you for signing up to Whattowatch. You will receive a verification email shortly.
There was a problem. Please refresh the page and try again.