Heston and Ruhma won't discuss their wedding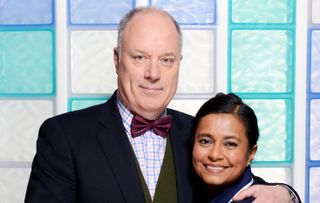 (Image credit: BBC)
Have the couple got cold feet?
Mrs Tembe tries to talk Heston and Ruhma about their upcoming nuptials, but both of them give her the cold shoulder. So Mrs Tembe redirects her efforts into planning Ruhma's hen night. She discusses her plans with Emma, Karen and Zara, but they can't agree on an idea and Mrs Tembe feels frustrated.
Later, she tries to address the wedding plans with Ruhma again, but she's evasive. Can Mrs Tembe help Ruhma through her wedding woes?
Ayesha and Bren join forces and head the council to protest against the demolition of Amber's home. Will this bring Ayesha and Bren closer together? And will their protest be a success?
Get the What to Watch Newsletter
The latest updates, reviews and unmissable series to watch and more!
Tobi Oredein is an award-winning women's lifestyle journalist, media entrepreneur and international public speaker based in London, who focuses on race, feminism, beauty politics & popular culture. Tobi has been commissioned by Buzzfeed, British Glamour, Grazia, Elle UK, Fader, The Debrief, The Independent, The Pool, Stylist, Vice and others. She has also interviewed public figures such as Ryan Coogler, Ava Duvernay and Sir Trevor McDonald.