Home and Away spoilers: Can Leah save the day?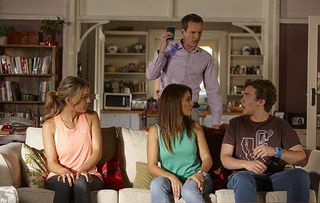 Will Leah be able to save Jasmine and Ryder from David?
David is like a man possessed as he keeps Leah, Ryder and Jasmine hostage. David tries his best to convince Jasmine that they belong together, but she refuses to leave with him. Leah reminds him that he's violating his AVO, but David doesn't care, he just wants Jasmine to leave with him. Leah comes up with a plan to get help - but will it work?
Meanwhile, Dean has got time on his hands now the search for Robbo is over. He isn't keen to go back to his old life and his boss keeps ringing him. Later, Dean turns up with some valuable work tools and Ash assumes they must be stolen. Is Ash right?
Finally, Dean breaks into Willow's caravan and when Willow returns home with Justin, they are shocked to see Dean asleep in her bed. Will Dean's appearance give Justin reason to not trust Willow?
Also, Marilyn invites Roo over for dinner, but is unaware that John has extended the invite to Alf as well. When Roo sees Alf arrives, she's furious and accuses Marilyn of setting the whole thing up. Marilyn refutes Roo's accusations and convinces the pair to stay for dinner. Will this be the start of a reconciliation?
Tobi Oredein is an award-winning women's lifestyle journalist, media entrepreneur and international public speaker based in London, who focuses on race, feminism, beauty politics & popular culture. Tobi has been commissioned by Buzzfeed, British Glamour, Grazia, Elle UK, Fader, The Debrief, The Independent, The Pool, Stylist, Vice and others. She has also interviewed public figures such as Ryan Coogler, Ava Duvernay and Sir Trevor McDonald.
Thank you for signing up to Whattowatch. You will receive a verification email shortly.
There was a problem. Please refresh the page and try again.