Home and Away Spoilers: Is Dean's life on the line?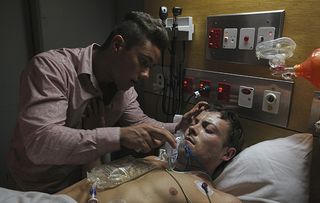 Can Mason pull himself together to save Dean?
Dean is rushed to hospital, but his condition quickly deteriorates, so Mason and Jasmine work hard to save his life. Reminded of Beth's death, Mason is finding Dean's situation difficult, but he manages to keep his emotions under control and save Dean's life. Is Mason having second thoughts about re-joining the world of healthcare?
Willow and Colby talk about the past and Colby explains that he was to blame for a joyride that went wrong and ended with Dean going to prison. Will Colby ever be able to right his wrongs with Dean?
Also, Maggie is nervous about her hospital appointment and Ben promises to be by her side. However, it is the morning of Ben's trial and Maggie's hospital appointment but Ben still hasn't been called into court. Ben decides to leave so he can make Maggie's hospital appointment, but Brody reminds him that he will be sent to prison for two years for skipping his trial. Will Ben risk his freedom?
Tobi Oredein is an award-winning women's lifestyle journalist, media entrepreneur and international public speaker based in London, who focuses on race, feminism, beauty politics & popular culture. Tobi has been commissioned by Buzzfeed, British Glamour, Grazia, Elle UK, Fader, The Debrief, The Independent, The Pool, Stylist, Vice and others. She has also interviewed public figures such as Ryan Coogler, Ava Duvernay and Sir Trevor McDonald.
Thank you for signing up to Whattowatch. You will receive a verification email shortly.
There was a problem. Please refresh the page and try again.