Home and Away spoilers: Willow and Ava grow close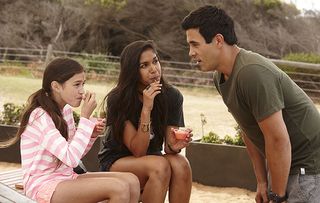 Willow and Ava seem to have made an impression on each other...
Willow and Ava get on like a house on fire, but Justin is hesitant to encourage the relationship. Justin is worried about Ava getting too attached to Willow and about what Nina will say about Ava and Willow's relationship. Later, Justin has to go out, so he has no choice but to leave Ava with Willow. What could go wrong?
Ash is recovering and acting like himself once again. Meanwhile, Tori feels conflicted, as she doesn't want to ask Ash to testify in court to help Robbo. However, Colby and Tori both know that Robbo is running out of options. How far will they both go to help Robbo?
Also, Roo is distraught over Martha's appearance, so Alf tracks down his ex-wife and orders her to face Roo. Martha gets herself together and has a heart to heart with her daughter, in the hope that Roo will understand why she left. Will Roo accept her mother's reasons?
Get the What to Watch Newsletter
The latest updates, reviews and unmissable series to watch and more!
Tobi Oredein is an award-winning women's lifestyle journalist, media entrepreneur and international public speaker based in London, who focuses on race, feminism, beauty politics & popular culture. Tobi has been commissioned by Buzzfeed, British Glamour, Grazia, Elle UK, Fader, The Debrief, The Independent, The Pool, Stylist, Vice and others. She has also interviewed public figures such as Ryan Coogler, Ava Duvernay and Sir Trevor McDonald.