Home and Away Spoilers: Ziggy is avoiding Brody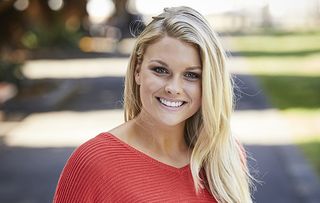 (Image credit: JEREMY GREIVE)
Are things moving too fast for Ziggy?
Ziggy is freaking out that Brody already wants kids, so Ziggy avoids him. Brody can tell that something isn't right between them and Ziggy is forced to admit the truth. Brody explains it was a passing complement but is stunned by the fact that Ziggy jumped to the worst conclusion. Ziggy is relieved that they're on the same page, until Brody reveals he wants children in a few years' time …
With everyone worried that she's taking on too much, Maggie agrees to stop teaching and focus on her Principal duties until she's feeling better health-wise. Meanwhile, Ben knows he has to bring in some more money, so will he accept a job offer or will he continue to try and make ends meet by working for himself?
Raffy fears that she's nothing but a third wheel now that Coco and Ryder are a couple. Will Coco be able to assure her best friend that isn't the truth?
Finally, Alf gets a visit from an old friend….
Tobi Oredein is an award-winning women's lifestyle journalist, media entrepreneur and international public speaker based in London, who focuses on race, feminism, beauty politics & popular culture. Tobi has been commissioned by Buzzfeed, British Glamour, Grazia, Elle UK, Fader, The Debrief, The Independent, The Pool, Stylist, Vice and others. She has also interviewed public figures such as Ryan Coogler, Ava Duvernay and Sir Trevor McDonald.
Thank you for signing up to Whattowatch. You will receive a verification email shortly.
There was a problem. Please refresh the page and try again.