Hunter and VJ officially leave school!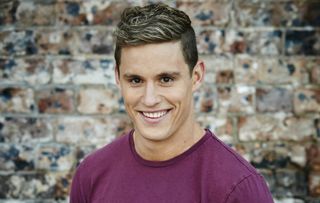 So the boys decide to get drunk!
VJ and Hunter are elated to have finished their exams and to be leaving Summer Bay High. Hunter believes the pair need to celebrate but VJ isn't keen, as he just wants to spend time with Luc before she leaves. Hunter finally manages to persuade VJ to have a night out and, as the pair get drunk, Hunter can't stop talking about his feelings for Olivia. Meanwhile, Olivia has a meeting with Axel, who tells her he wants another one of her designs, but is Axel playing Olivia for a fool? Axel also tells Olivia that Hunter is holding her back - but will Olivia listen?
Meanwhile, Robbo and Kat get into a heated argument over the trial. Robbo tells Kat she can't testify and Kat demands to know why. Finally, Robbo comes clean about his past and Kat's left stunned. Kat takes the news in, but she still wants to take the witness stand in court. So Robbo re-installs the security cameras at Kat's flat before he heads off to work. As he leaves, he unknowingly passes Novak who sneaks into the flat and kidnaps Kat...
Tobi Oredein is an award-winning women's lifestyle journalist, media entrepreneur and international public speaker based in London, who focuses on race, feminism, beauty politics & popular culture. Tobi has been commissioned by Buzzfeed, British Glamour, Grazia, Elle UK, Fader, The Debrief, The Independent, The Pool, Stylist, Vice and others. She has also interviewed public figures such as Ryan Coogler, Ava Duvernay and Sir Trevor McDonald.
Get the latest updates, reviews and unmissable series to watch and more!
Thank you for signing up to Whattowatch. You will receive a verification email shortly.
There was a problem. Please refresh the page and try again.