Imogen is rescued by a sexy stranger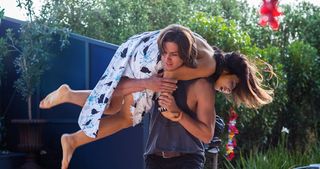 (Image credit: Heath McKinley Photographer)
A hungover Imogen wakes up in the arms of Tyler, a handsome stranger, who hoists Imogen on to his motorbike. Arriving on Ramsay Street, she accidently falls off the bike and hits her head. She heads to the shower but is surprised to see Daniel, who's concerned to see the bump on her head. When he later runs into Tyler, he confronts him, landing both of them, as well as Paige, in police custody.
Discovering that the waste management company is on strike, Tesese suggests to Paul that they use the contingency money in the festival budget to pay the workers. But when Paul admits it's all gone, she realises he's up to something and she demands he find the money.
Naomi turns up dressed to kill when Brennan invites her over, and it appears that these two are indeed about to take things to the next level. But just as they are about to 'go for it', Brennan is called away on an emergency – much to Naomi's frustration.
Get the latest updates, reviews and unmissable series to watch and more!
Thank you for signing up to Whattowatch. You will receive a verification email shortly.
There was a problem. Please refresh the page and try again.